This week we're studying Yousuf Karsh, who was a master of lighting, and best known for his iconic portraits of Queen Elizabeth II, Albert Einstein, Winston Churchill and Ernest Hemingway, to name a few.
Here's a link to his work on Google. And here's a link to Karsh on Artsy, a resource for art collecting and art education.
He used lots of studio lights, creating images that were mostly black and white, and very contrasty. Crisp light on the bridge of the nose, and hair, or "rim" lights from the sides are his trademarks. He was also known to be able to look into the soul of his subject, or get them to express their inner selves to the camera…. something every photographer aspires to do.
"Whether his sitter was a famous actress or a controversial leader, Karsh looked for the good in the person he was photographing. And in choosing which portraits to display, he always respected the dignity of his subject. Because of the consistency in his approach, Karsh gained a reputation for having a kind eye. And that led to some pretty incredible opportunities."

Karsh was considerate and kind to all his subjects, always looking for positive values, even in such unyielding communist adversaries as Nikita Khrushchev and Fidel Castro, both of whom cooperated on the basis of their trust of Karsh, something no other photographer managed to achieve.  – David Travis
Here are my attempts at Karsh. (I don't think that I got it quite right yet, and feel like I still need to tackle this one.) I was going for the dramatic, high contrast lighting, and raw emotion. Here's John Liebler playing the part of an old, disgruntled Russian soldier, circa 1985.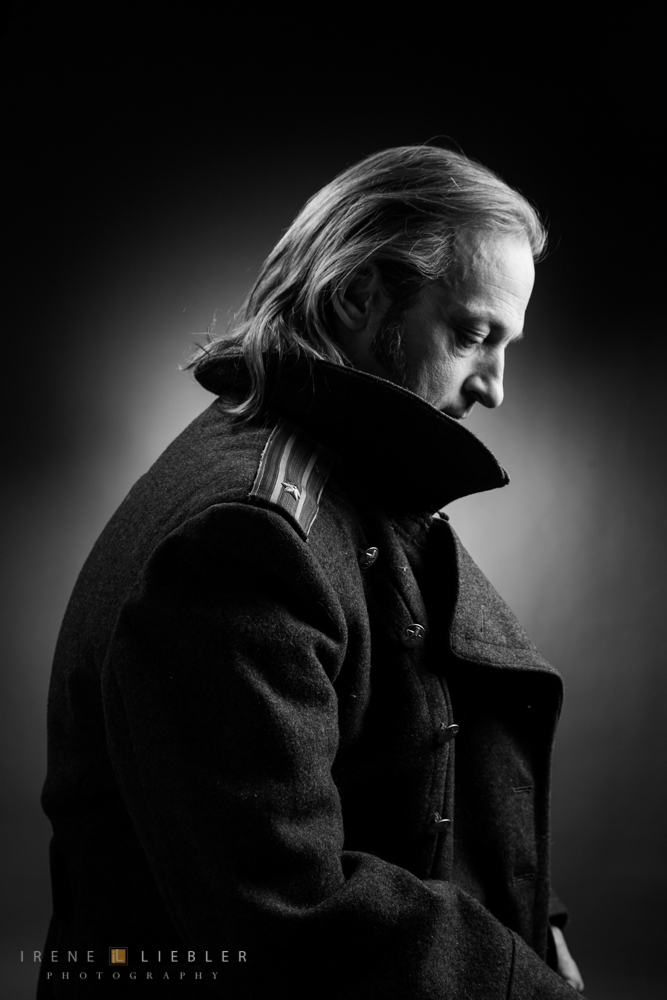 While playing with Karsh's lighting setup, I got a few other shots that, although may not be typical of his style, are still cool, so I've added them here.
Some of Karsh's portraits were not dark and moody, especially the ones of female subjects like Audrey Hepburn and Grace Kelly.