Hello, friends!
I'm happy to report that I've started a new 8-week portrait class with my favorite teacher, Mr. Don Giannatti from Phoenix. It's good to be back!
The first assignment is based on the work of Victor Skrebneski, a famous fashion photographer from the early days. At the bottom of the page is his bio, borrowed from Don's class page.
Here are my first attempts at Victor's lighting and compositional styles. He uses lots of negative space, one light source from above casting dark shadows on the face, and oftentimes his work was blurry – on purpose! That's not really my style so I tried to keep things in focus, knowing that I could blur in Photoshop if I wanted to.
Thanks to Mr. John Liebler, and Miss Rachel Connolly for posing for me, yet again!!
Here's my lighting setup:
VICTOR SKREBNESKI: CHICAGO, IL, USA
BIO from KODAK Exhibit
A chance encounter with a lost camera changed the course of Victor Skrebneski's life. "I was playing on the swings in a city park when I was six or seven years old," recalls the photographer. "It started to rain, so I jumped off of my swing and ran toward the clubhouse. As I ran by one of the park benches, I noticed a black box camera that someone had left behind, so I picked it up, brought it inside with me and gave it to the lady at the desk. No one ever claimed the camera, so after a couple of weeks, it was mine for the taking."
That simple fold-out camera inspired Skrebneski to embark upon an artistic journey that would last a lifetime. Today, at the age of 70, he is one of the world's most prolific and renowned fashion, beauty and portrait photographers, with an impressive body of work behind him and a number of new projects underway.
Originally, Skrebneski aspired to be a painter or a sculptor. His enthusiasm for artistic endeavors was fueled by his childhood mentor, Dorothy Bates. An artist and an actress, Dorothy lived in the coach house behind Victor's family home in Chicago. She introduced young Victor to the world of art, teaching him about painting, sculpting, drawing, furniture design and acting.
As a teenager, Skrebneski studied painting and sculpture at the Art Institute of Chicago and then at the Maholy Nagy Institute of Design. Photography became a force in his life once again when a friend who had once wanted to be a photographer gave Victor his darkroom equipment. Victor set up the equipment and developing trays and went to work enlarging and cropping the photographs he'd been taking since he'd found his box camera in the park as a child.
Eventually, he showed some photographs of his sister, Jennie, and some cityscapes to Harry Callahan, who was then a photography instructor at the Institute of Design. Callahan, who said that he'd never seen cropping like Skrebneski's before, urged him to visit some of the magazine editors in New York City. Skrebneski followed Callahan's advice and spent a few months in New York working for Esquire and other magazines.
But Skrebneski's sojourn in the Big Apple was brief. During a return trip to Chicago to pack up his possessions and move permanently to the East Coast, he was called to do a fashion assignment for Marshall Field's, one of the city's biggest retailers. That first fashion assignment — which Victor shot in the early 1950's at the tender age of 23 — led to another assignment and then another. Caught up in the flurry of fashion work that had come his way, he abandoned his earlier plan to relocate to New York City and opened up his Chicago studio.
By 1962, Skrebneski had become the exclusive photographer for Estee Lauder, and for the next 27 years, his flawless images of models such as Karen Graham, Willow Bay and Paulina Porizkova made his name synonymous with beauty.
During the 1970's, his "black turtleneck series"— a collection of moody, reductive portraits of celebrities wearing a black cashmere turtleneck that the photographer carried with him from one session to another — captured the essence of some of the era's most celebrated and accomplished actors, musicians, writers and artists. In the 1980's and 1990s, Skrebneski became fascinated with blur. His disturbing diptych of an indistinct Dennis Hopper became emblematic of our collective uncertainty and a pervasive sense of moral ambiguity as the 20th century drew to a close.
Throughout the decades, Skrebneski's diverse body of work — from wildly inventive fashion images and sculptural nudes to starkly revealing portraits and haunting cityscapes — has been informed by his formal training in art at the Art Institute and the Institute of Design. Whether we find ourselves gazing at a Lagerfeld dress soaring through the skies of Paris, a minimalistic portrait of Liza Minelli or a street scene in Monaco, each photograph exhibits the lyricism, elegance, timelessness and classicism that have become hallmarks of the Skrebneski style.
With a recent retrospective at the Museum of Contemporary Art in Chicago and a corresponding book project entitled Skrebneski: The First Fifty Years completed, Skrebneski is still going strong. He's already moved on to his next project: thirty-three portraits of Steppenwolf actors for a book commemorating the Chicago theater company's 25th anniversary. And he shows no signs of slowing down anytime soon. As this indefatigable image-maker is fond of saying: "Our favorite word at the studio is "NEXT!"
………………………….
Diana Ross by Victor Skrebneski
Not the placement of the umbrella front to back. High and down, but where the subject stands in relationship can alter how the light falls.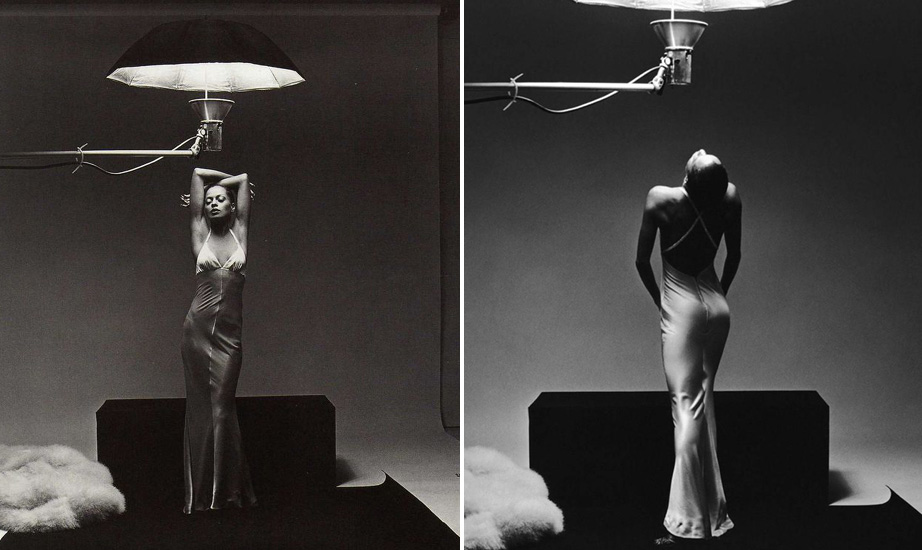 Portrait of photographer Steve Starr days before he died unexpectedly.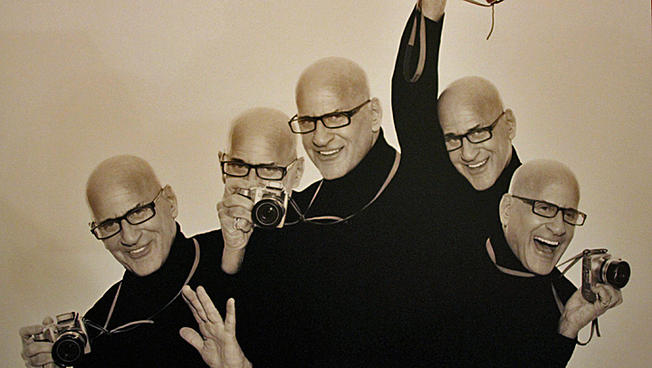 Portrait

RESOURCES:
Chicago International Film Festival and Exhibit: "What's Next" by Victor Skrebneski
Zooming In On: Victor Skrebneski
Behind the LUCIES – Victor Skrebneski
Article about Skrebneski in People Magazine
Article in Chicago Life Magazine
Photoshop Tutorials for converting to Black and White: